Sometimes it happens that we need to change the default sorting of our products in WooCommerce.
Let's say we want to display our popular products first or set a different order. Both are possible, but in different ways.
The default order is "custom ordering + name" so the title of the product matter the most, and we can change the order manually on each item.
Note: this article is about WooCommerce 4.2.
Change the Default Sorting
You can find the sorting orders now in the Customizer. Open the Customizer and navigate to the "WooCommerce / Product Catalog" panel and select the "Default product sorting" option.
You can select from the following:
Default sorting (custom ordering + name)
Popularity (sales)
Average rating
Sort by most recent
Sort by price (asc)
Sort by price (desc)
These options are the same as the user sees at the front-end filter.
Need a reliable web application developer? We can help you achieve your goals with Laravel and Vue.js.
Change the Order Manually
If you want to change the sorting order each by each first, you have to navigate to a product page: "All Products / Product Name". Here navigate to the Product data panel and select the "Advanced" menu item. Now you see the Menu order field, which defines the list order. The smaller, the earlier it is. You can also set a negative value.
You can also short manually with drag and drop. Open "All products" and switch to the "Sorting" filter. Here you can grab one of the records in the table and rearrange them.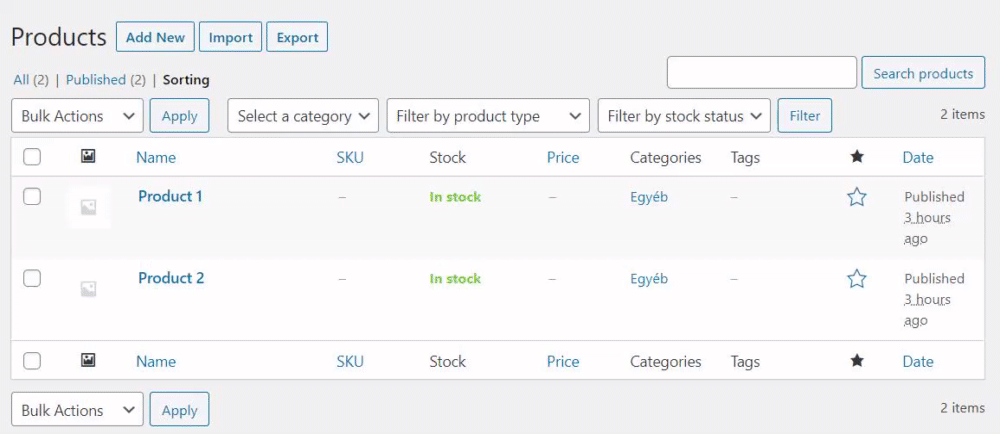 Using the manual ordering, you can modify the generic listing order. For example: if you set a product order in the Customizer base on popularity, you can overwrite it with this value individually.